Common website errors and effective security solutions
Thu Sep 22 2022
Site errors usually arise from the server due to misconfiguration or network attack. Such issues will adversely affect the performance of your website.
When a website fails, businesses can lose SEO rankings and may even experience customer service issues. Therefore, to ensure smooth access to the website for all customers, businesses need to handle, check, detect and prevent possible errors on the website as below.
Common mistakes and solutions
404 error page Not Found
The most common web server issue a business can experience is a page not being found. If your website is a static HTML page, then a 404 error indicates that the page has not been created. At this point, the web browser will generate an error when it tries to navigate to a page that does not exist.
The way to solve this is: check the public directory to determine if the file exists.
Error 403: Forbidden Page
The cause of this problem is related to permissions issues. Every operating system has a mechanism to control who has access to which files. Therefore, when a user tries to open a file that does not exist or cannot be opened, he will receive an error message from the operating system.
To work around this: modify the file permissions causing the problem, either via cPanel or the Linux command line.
Error 500: Internal Server Error
This is one of the most difficult to diagnose and troubleshoot, as it involves internal server problems.
The solution is simple: collect as much information about the setup as possible, to analyze and find errors.
Error 400: Bad Request
This error is also generic, as in most cases it is related to the browser's caching system and the actual website itself. Although the data on the server may have been updated, there will be times when the viewer's browser has not kept up with the latest changes. This causes a large disparity between the request and the response. The server will recognize that the user is trying to access a website repeatedly and irregularly, so it will return this error.
Error 503: Website Service Unavailable
DDoS attack, also known as word attack Distributed denial of service is a serious problem for business websites. Hackers will flood the business's Web server with traffic, preventing users from accessing the site. DDoS attacks also slow down the processing capacity of Web servers. This type of attack is often used by hackers to demand ransom from businesses.
Contacting professional website security service providers is the best way to deal with DDoS attacks and other sophisticated website attacks. These security services have the ability to block bad traffic, and ensure that your business website is always running at its best.
Summary
If your business website encounters the above errors that you cannot access the page, the administrator should be very careful because your business may be the target of attackers.
VNETWORK will allow you to have the opportunity to try for free smart website security service with our name is VNIS. Therefore, please contact VNETWORK experts immediately via hotline: (028) 7306 8789 or fill in contact information in the form below, we will support you as soon as possible. Because VNETWORK's mission is to bring quality of service to satisfy customers and ensure that all network security problems of enterprises are solved.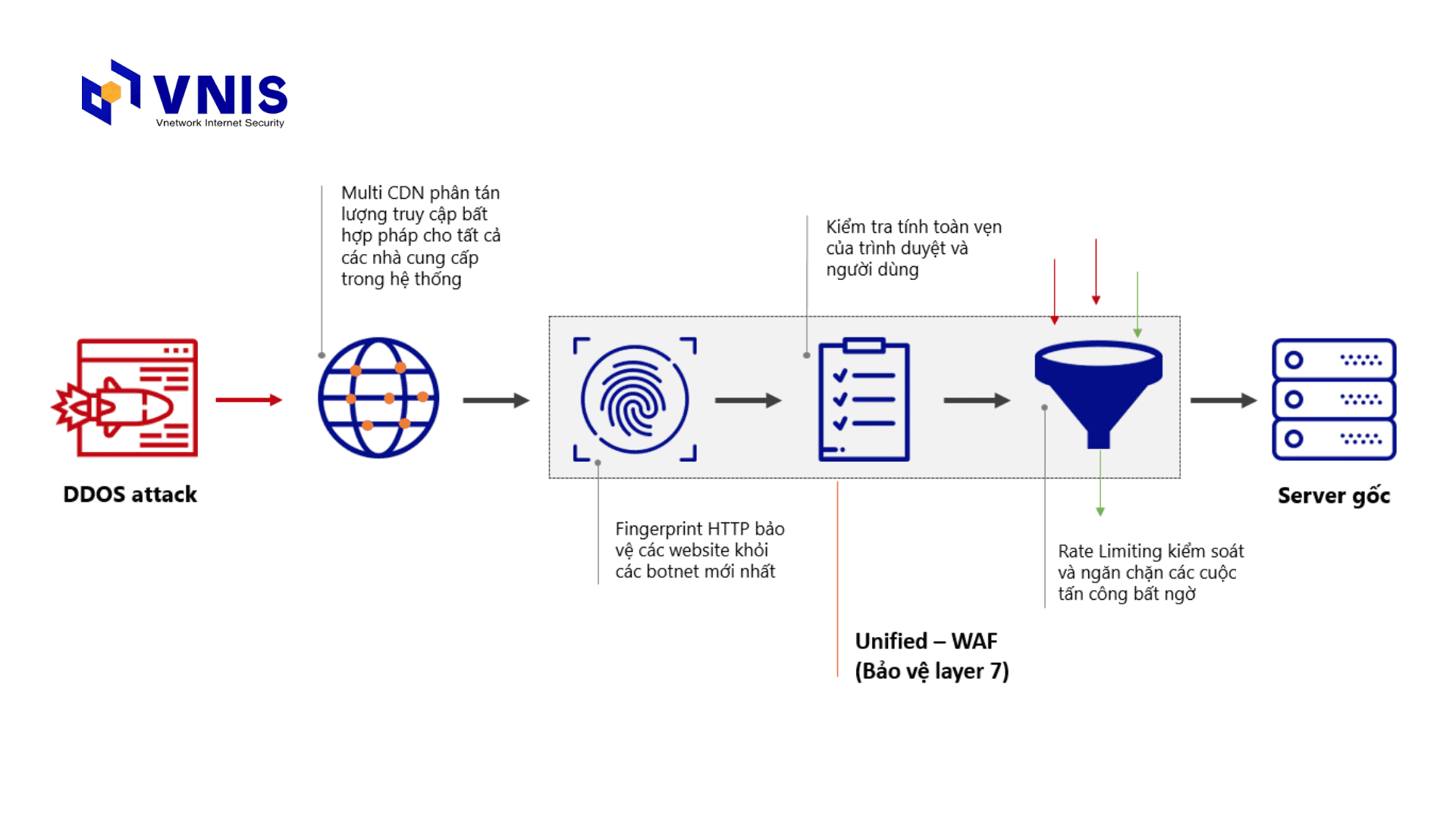 Please leave your contact information, and our experts will contact you soon.