VNIS secures the Website and helps customers fight and prevent millions illegal requests
Fri Aug 26 2022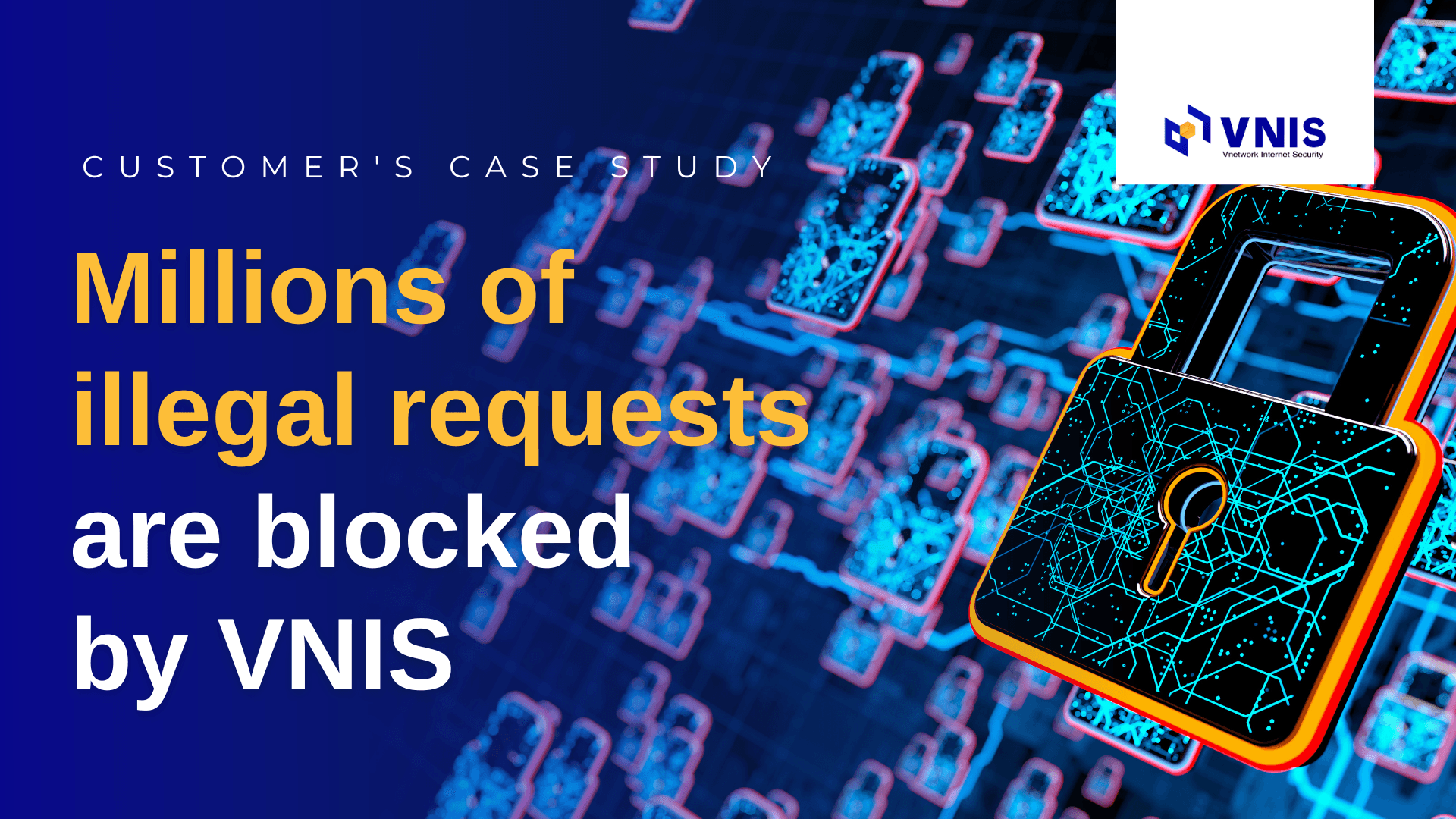 For news sites, or any website, or online platform doing business on the Internet today, it is inevitable that DDOS attacks, sabotage by forms of exploiting vulnerabilities from code from the system to steal customer information, even delete data, implant malicious code... In addition, news sites and newspapers are also hacked by crawlers to get information automatically causing adversely affect the performance and security of the Website.
In recent quarters, the above-mentioned attack phenomenon has become denser and denser, and VNIS is honored to receive positive feedback from customers for creating a comprehensive website security platform to help domestic enterprises in their current digital transformation. To understand the benefits of integrating the VNIS platform, let's take a look at the specific case of a major news site below (We took pictures of the reports, but because of security issues, we will hide them). customer information). The VNIS system has made statistics and prevented the following factors that negatively affect the Web site:
VNIS has helped protect the Website against DDoS attacks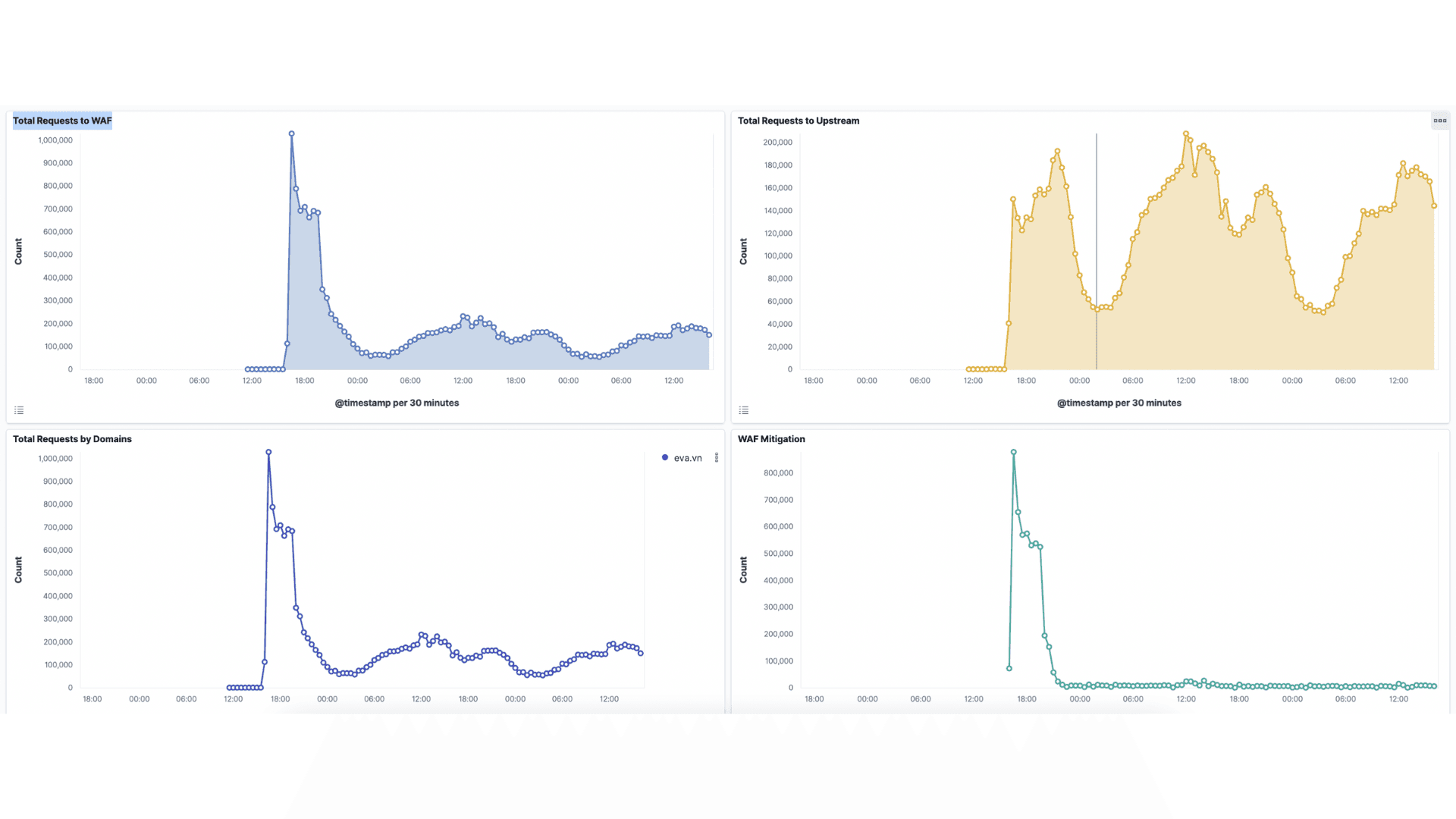 Before integrating with VNIS, this website was regularly affected by DDoS attacks. These attacks caused more than 1 million invalid requests to the website of the news site. However, after VNIS was integrated, our engineers reset the rules (firewall rules), VNIS system detected, blocked, and filtered to block invalid requests.
As shown in Figure 1, the total request sent to the Website tends to decrease and stabilize gradually after integration. The explanation for this is due to the number of invalid requests that have been filtered. VNIS only allows valid requests to access the Web Server system, so the Website returns to a stable state to meet the needs of real users. Overcoming this not only helps website performance increase but also helps businesses not need to pay and invest too much in bandwidth and server infrastructure. VNIS also helps to overcome website downtime by successfully preventing DDoS attacks on Layer 3/4/7, increasing website performance to the maximum.
VNIS prevents exploitation of website's security vulnerabilities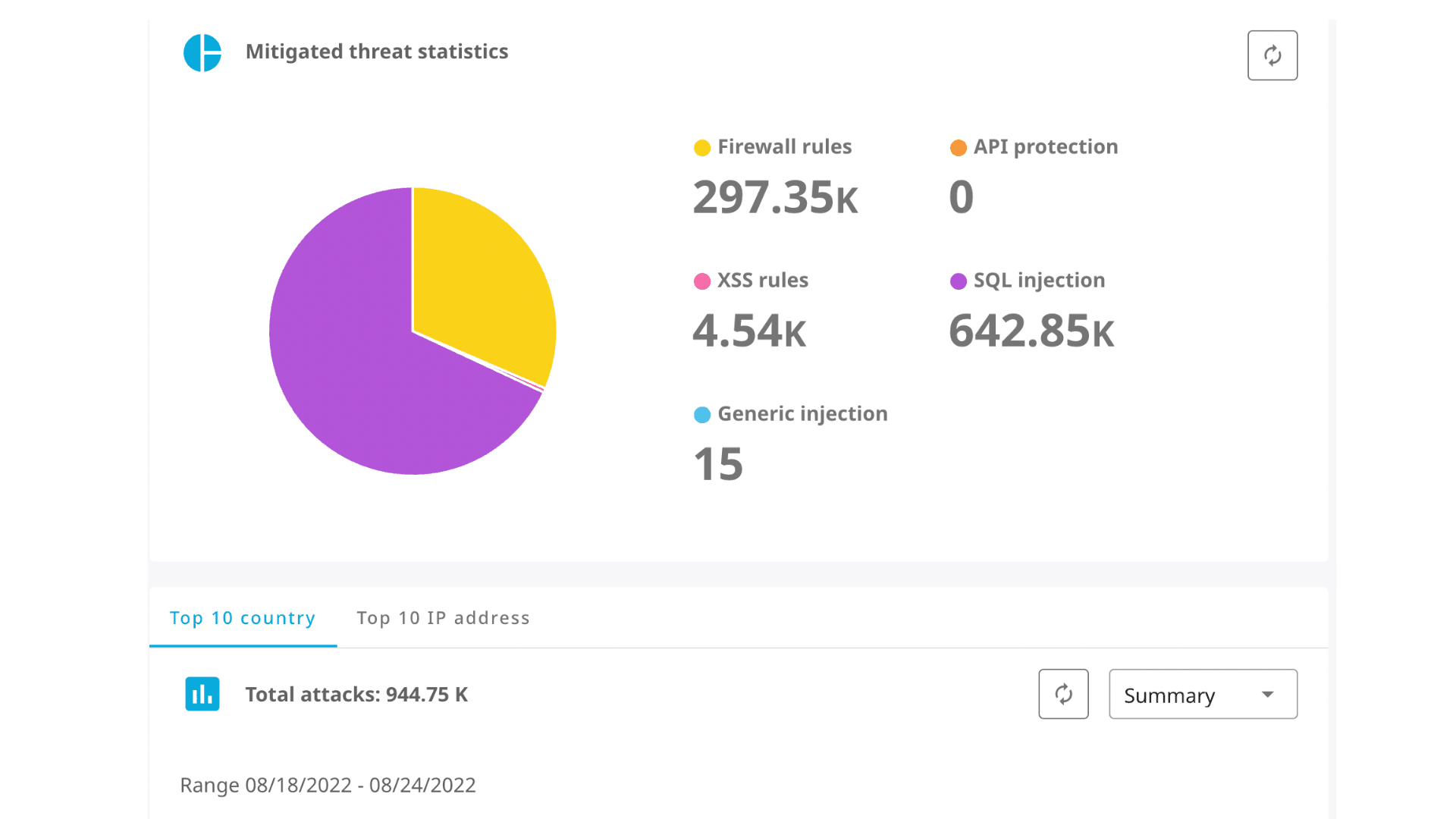 According to the system's statistics, as shown in Figure 2, VNIS has prevented a total of 944.75 thousand attacks aimed at exploiting security holes in the Website and helped this Website against a large number of security threats. secret:
297.35 thousand illegal access attempts to bypass the WAF firewall.
4.54 thousand attacks exploiting XSS vulnerabilities
642.85 thousand exploiting attacks on SQL vulnerabilities
Attacking these vulnerabilities can have serious consequences such as theft or deleting the original data, crashing the Website or the Website does not work properly,... These directly affect the operating results of the Website, and also bring negative experiences to users.
VNIS helps detect and prevent illegal crawlers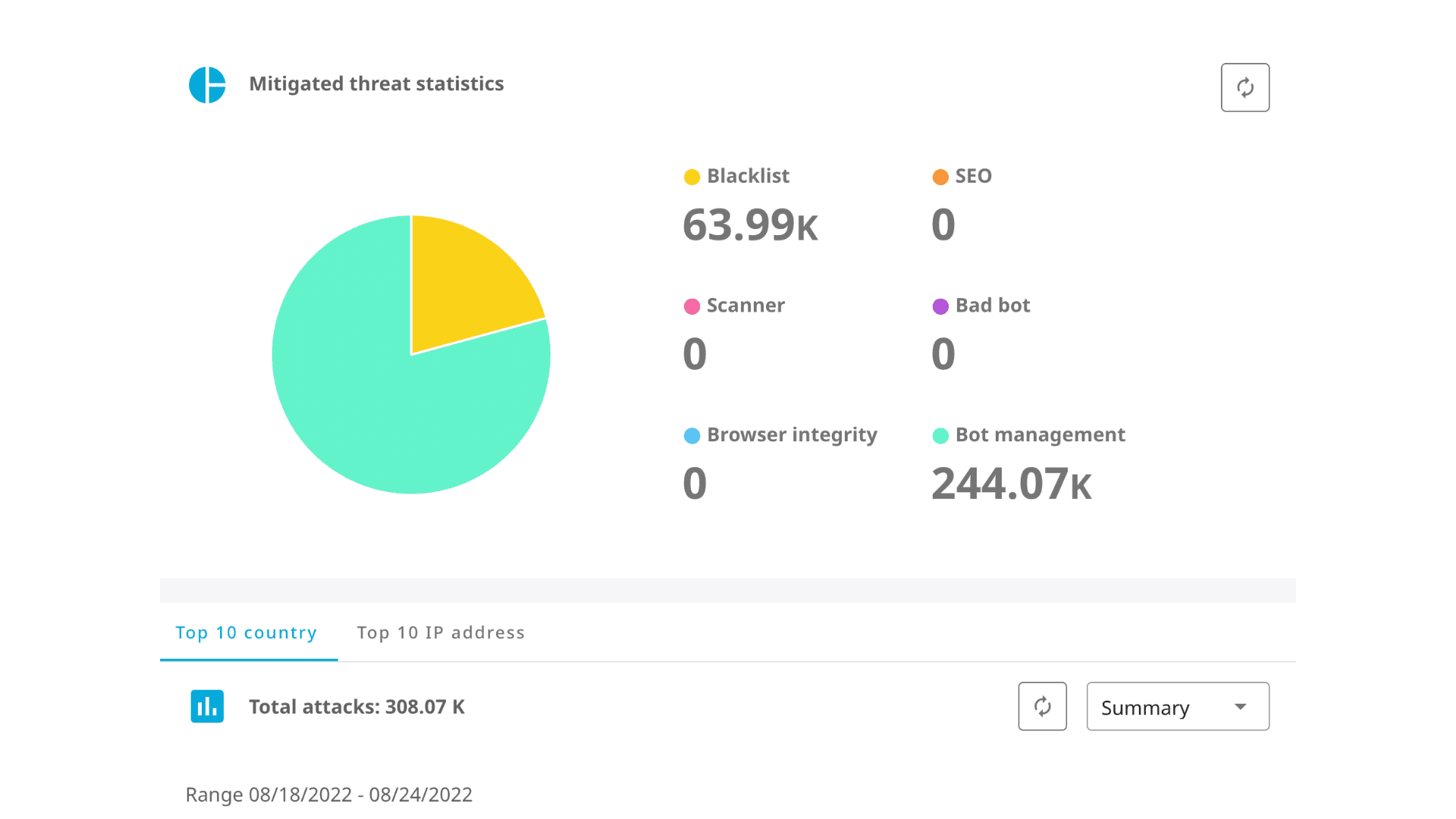 After preventing DDoS attacks, VNIS's system with automatic rules and machine learning conducted an automatic review, detecting nearly 308.07 thousand total threats detected. Of which 63.99 thousand threats from backlink attacks and 244 thousand threats from malicious bot systems.
Malicious bots can cause a lot of negative effects on websites, especially online news sites:
Make the user experience poor due to these Bots crawling at a high frequency, causing system bandwidth congestion...
Causing automatic data theft, many fake sites automatically clone the entire content of the Website, which will greatly affect the performance results as well as the content competitiveness in the market.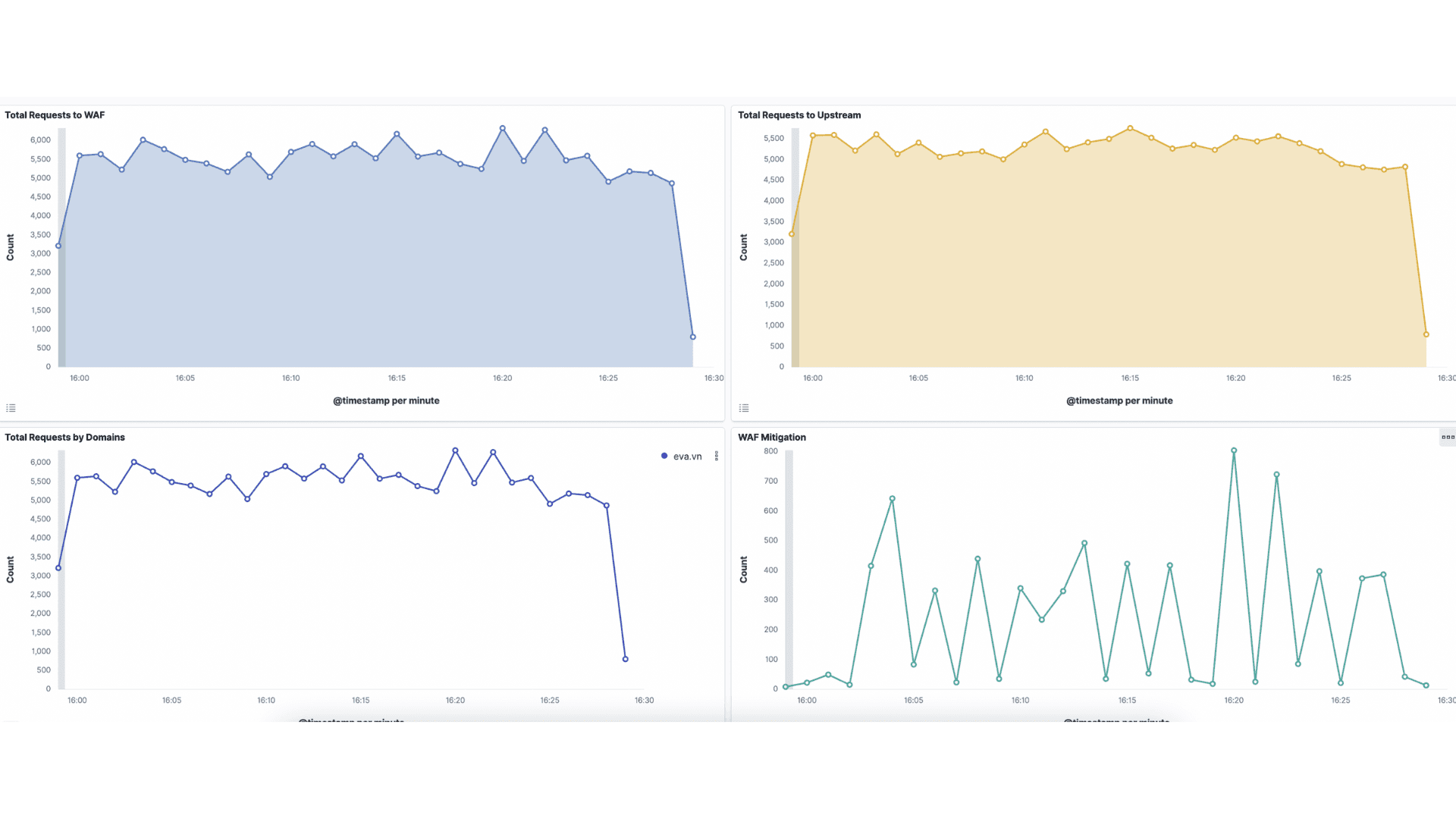 After the process of preventing malicious bots, the number of actual, valid and safe requests is about 6,000 requests (out of a total of nearly 1 million initial requests). Thereby, when integrating VNIS, it will help the Website to block a lot of requests, invalid requests that are malicious Bots, automated tools that are not real users, DDoS attacks, etc. How to detect security holes.
After successful integration, the number of requests of the Website is measured stably. Availability, availability of Website increases and can satisfy large number of real users with fastest speed. At the same time, increase SEO quality score, increase traffic from real users, increase time on site. It is a proud story that VNIS has helped customers.
If your business is looking to optimize the system, protect the website and online platforms, experience VNIS or have any security problems, please contact us immediately via hotline: (028) 7306 8789 or fill in the registration information below, our experts will assist you immediately.
Please leave your contact information, and our experts will contact you soon.