NGFW vs WAF: Which is the security solution for you?
Sat Jul 30 2022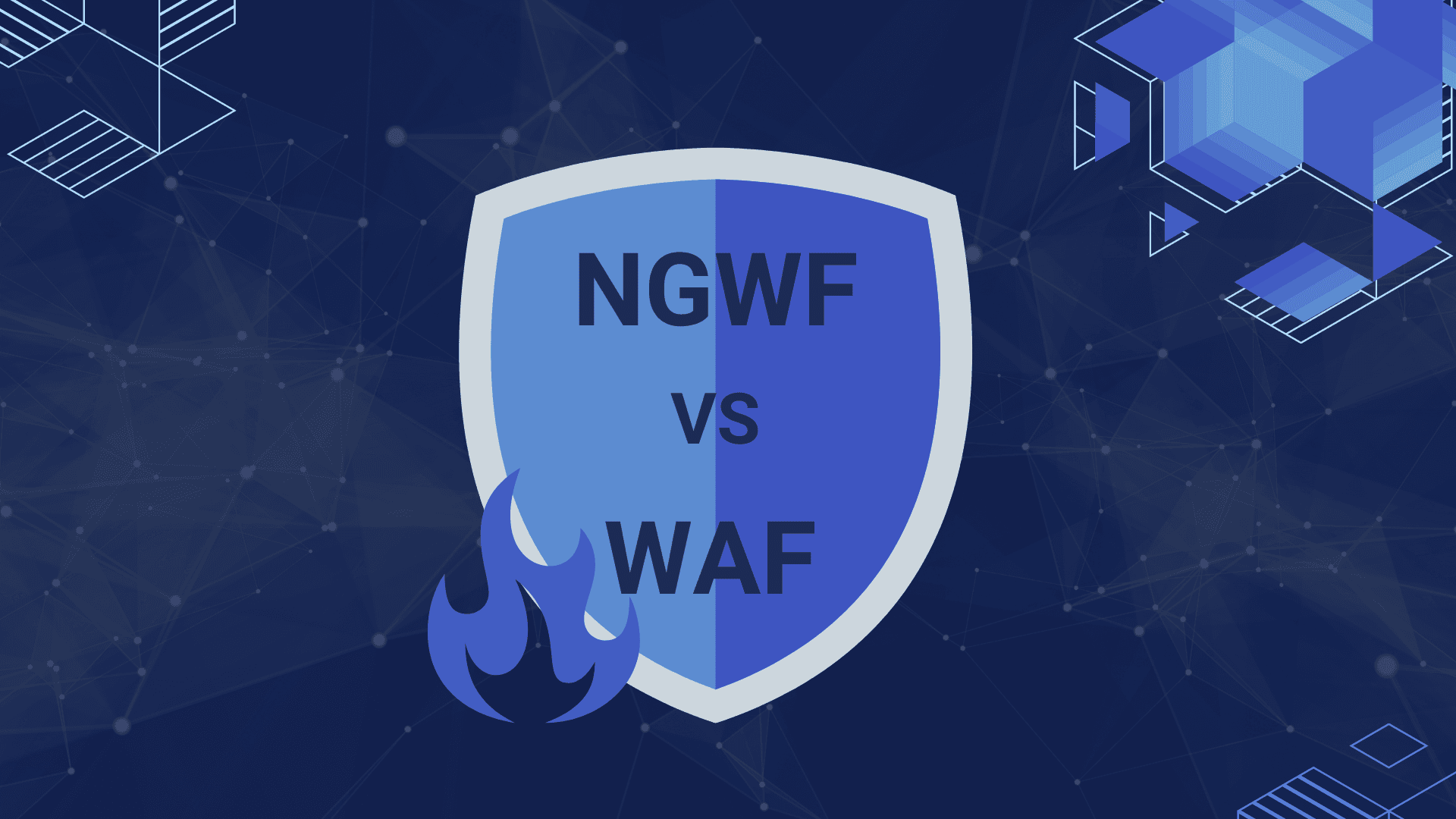 A firewall is a network security system that acts as a barrier between safe and unsafe access. However, not all firewalls have the same characteristics and features. Here, we will analyze the difference between Next-generation firewall (NGFW) and Web Application Firewall (Web Application Firewall/ WAF) | NGFW vs WAF.
Next Generation Firewall (NGFW)
NGFW is an upgraded version compared to traditional firewalls with broader visibility and control, helping to protect information systems and servers of enterprises, especially enterprises. has a large network security infrastructure. NGFW provides an even greater level of security and integrates multiple security features in one: Combine the work of anti-virus software, firewalls and other security applications into one solution. As a result, NGFW is a suitable low-cost option for businesses looking to improve security.
With a higher upgrade, NGFW will provide users with a variety of deeper security features as follows:
Anti Virus
Deep Packet Inspection (DPI)
Identity Awareness (IA)
Intrusion Prevention Systems (IPS)
Machine Learning (ML)
Network address translation (NAT)
Packet Filtering (PF)
Port Address Translation (PAT)
Signature matching
SSL Decryption (SSL Decryption)
Threat Intelligence
Block URLs
Protect Virtual Private Networks (VPN)
Include Quality of Service ( QoS)
Web Application Firewall (WAF)
Like NGFW, WAF is also a separate firewall protection system for enterprise information systems and servers. industry, but the main feature of WAF is to protect Web applications. WAF acts as a layer of protection between a web application hosted on a private server and Website users attempting to access that application from outside the organizational network. In other words, WAF is the first line of defense, analyzing all informational data before it reaches the application or end user.
WAF offers more limited protection than NGFW because it focuses primarily on web applications. However, basically, WAF also provides users with appropriate security features such as:
Handle high volume of connections and connection requests
Quickly detect web application coding errors
Secure sensitive information
Do not allow unauthorized users
How are the missions of the NGFW and the WAF different?
The security capabilities of NGFW vs WAF are similar in that they both protect an enterprise's private network from unauthorized access, which can lead to a data security breach. However, the extent to which NGFW vs WAF protects is different: NGFW protects the entire information system of the company, while WAF stops at web application protection only.
NGFW protects the system from unauthorized access through multiple access points, not only applications, but also helps avoid man-in-the-middle attacks and privilege escalation. With SSL decryption and signature matching, NGFW can identify a malicious application. Meanwhile, WAF will perform the function of protecting corporate Website from attacks, such as Distributed Denial of Service (DDoS) and SQL Injection.
How NGFW and WAF work?
NGFW is a forward proxy (used by clients such as browsers) and WAF is usually a reverse proxy (used by the server). As a result, NGFW will enforce security regulations on multiple levels, such as application, port, and protocol levels. It distinguishes between secure and unsafe packages at the application level through deep packet inspection (DPI). WAF implements application layer protection and is specially designed to analyze each HTTP/S request at the web application layer.
The common feature of NGFW and WAF is that NGFW both take on the role of keeping applications secure. However, in contrast to WAF, NGFW examines the data packet not only the port, source IP address and destination IP address, but also its contents.
NGFW vs WAF:  Which type of firewall is superior?

From the comparison table above, it can be seen that NGFW has many outstanding advantages with deeper security features than WAF, but both NGFW and WAF have limitations that users should consider. There is no perfect security solution, only the most suitable security solution. Therefore, organizations should learn the details to choose the most suitable solution to meet their security needs.
With today's level of hacker sophistication, businesses should equip themselves with at least one NGFW system. At the same time, companies need to layer and maximize the security of their systems, so it is extremely important to implement NGFW in conjunction with WAF. NGFW contains several application protection features, WAF protects across applications and will enhance the security of any application that NGFW provides. However, users do not need to worry because now there are many reputable firewall providers on the market, among which is VNIS's Cloud WAF system (VNETWORK Insecurity Security) - a solution to increase performance. and comprehensive Website security that businesses can refer to below.
Secure Enterprise Website with Cloud WAF VNIS
Cloud WAF (Web Application Firewall) VNIS allows blocking requests with bad signs based on criteria such as headers, cookies, users' IPs to protect Layer 7 (Application Layer) in the most effective way. At the same time, VNIS's WAF also protects the Website from the top 10 security vulnerabilities of OWASP and common attacks such as: XSS, SQL Injection, Global Agents, HTTP Protocol... VNIS's WAF cluster is located in many countries to resist large-scale Layer 7 attacks.
Currently, specialized WAF systems (On-premise) and traditional established protocols cannot keep up with the changing global Internet. VNIS's Cloud WAF is a comprehensive and multi-use service to solve that problem with complex CRS (Core Rule Set) management to keep corporate websites safe from application layer attacks.
To answer questions related to NGFW vs WAF and as well as experience other smart security solutions of VNIS, please contact hotline (028) 7306 8789 or fill in the registration information below, experts Our team will advise you.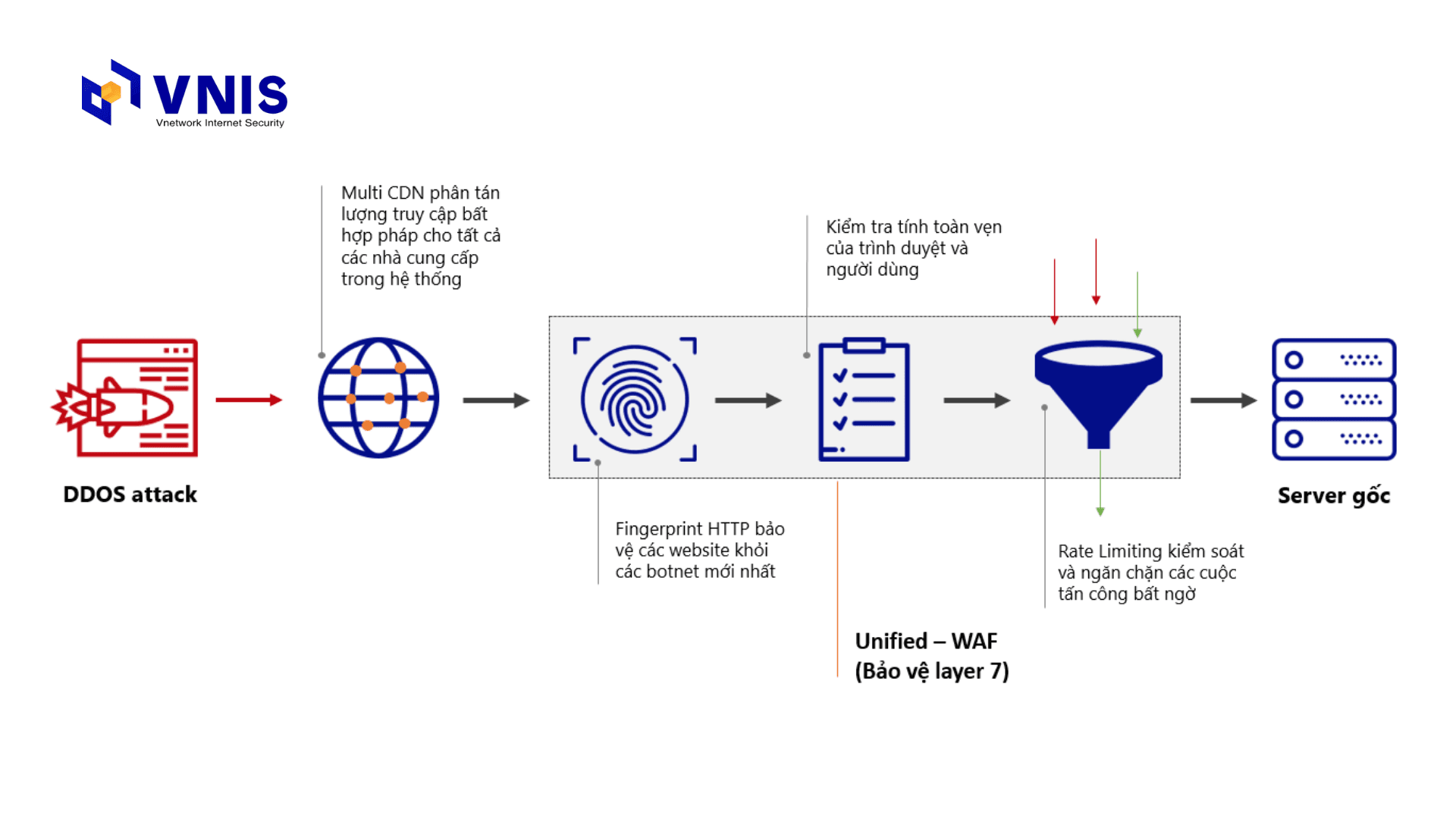 Please leave your contact information, and our experts will contact you soon.