5G technology - Risks and security solutions for businesses
Tue Aug 09 2022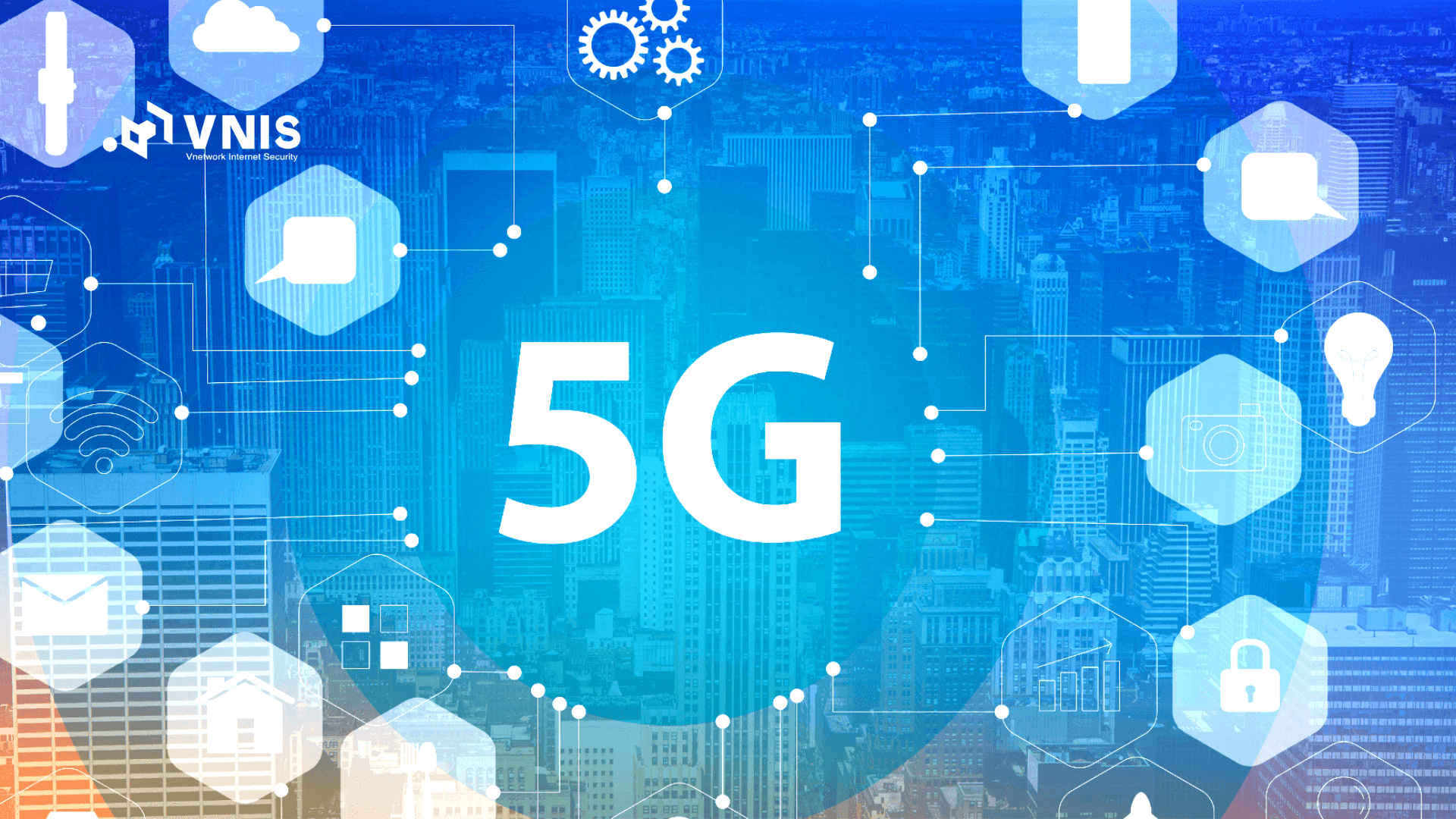 The strong development of the digital transformation era, most recently 5G technology in the future is predicted to bring many opportunities and also pose great challenges for enterprise organizations. Those are the current cybersecurity issues, when the hacker's attack tricks are increasingly sophisticated. So how can businesses and organizations deal with the above problems, let's dig deeper through the article below.. 
Actual situation
Many major transformations over the past two years have prompted organizations in all industries to make major changes in the way they think about how they work to be more efficient. With the rise of teleworking, organizations rely heavily on automation and online connectivity to stay afloat.
Thereby, businesses can create value and meet the growing needs of customers. In addition, with the dramatic increase in the adoption of Industry 4.0 and the Industrial Internet of Things (IIoT), organizations are gradually integrating IT/OT to optimize processes and unlock agility, flexible.
The evolution of 5G technology will revolutionize Internet-connected devices. As a result, organizations can transform the way they work and make remote work easier. The variety and optimization of features, fast speeds and ultra-low latency that 5G technology brings will help employees be more productive than ever. Despite its many advantages, 5G technology is expected to increase costs and lead to profound changes in the way organizations operate, while creating security and privacy vulnerabilities.
The dramatic rise of remote work has left organizations facing many security challenges in their network architecture. 5G technology with the ability to attract more and more IoT devices, better connectivity, with it means more real-time data will be collected to make future decisions. This leads to a high risk of attacks and increases the possibility of outsiders accessing the network.
Data transmission, information sharing, and use of third-party systems are central security issues today. In addition, the strong connectivity of 5G also brings threats in hosting applications on the Distributed Edge Computing Website, thereby creating more attacks.
Solutions to ensure safety for the organization
With many of these security issues in mind, the transition to 5G technology requires new security approaches to every aspect of Internet-based operations. Here are 3 ways that enterprise organizations can apply to create the most secure digital transformation work environment, helping to prevent sophisticated attacks in the coming 5G revolution:
1. Protect the ecosystem that supports 5G API
Businesses increasingly rely on APIs (Application Programming Interfaces) to integrate services and businesses. However, a lack of authentication or inadequate authorization can make APIs vulnerable because they potentially introduce additional threat vectors to the network. As a result, businesses must analyze, validate, and secure APIs before allowing them to operate on the network, and also implement API controls during operation to ensure they are as secure as possible.
In fact, API gateways are growing in popularity as a feature that helps prevent accidental or intentional use of requests that target infrastructure and services, and limits damage when a compromised public API endpoint. However, to ensure that 5G services meet the requirements of low latency and other performance parameters, enterprises need to choose the right API gateway solution to provide preventive measures without sacrificing performance. reduce port functionality when routing traffic.
2. IoT Security in 5G Access Network
The new era of 5G connectivity is expected to lead to an explosion of IoT devices. The rapidly increasing number of connected devices will be accompanied by increased security allocation constraints, which in turn create botnets and potential vulnerabilities - an attractive network environment for users. hackers. Therefore, designing IoT service architecture and solving IoT security in the whole system is essential. However, with the advent of 5G, protection needs to be added at critical locations where IoT data enters the network edge.
3. Use Firewall to protect apps and access
Applications are often the target of attacks, especially when they are exploited which can trigger fraudulent transactions, lead to downtime and expose important data. As a result, organizations today need Firewalls to protect access to applications and to protect the applications themselves.
Firewalls with advanced network security features protect container-based applications regardless of platform or location in the network. Thereby, helping to mitigate DNS threats, DDoS and other attacks, allowing legitimate traffic to pass through without affecting application performance. Advanced WAF with intelligent technology integration testing helps achieve key security standards, it performs security testing  and automated virtual patching to quickly identify and resolve issues. vulnerability issues, while also providing direct visibility if attacks occur.
VNIS - An API security solution in the 5G era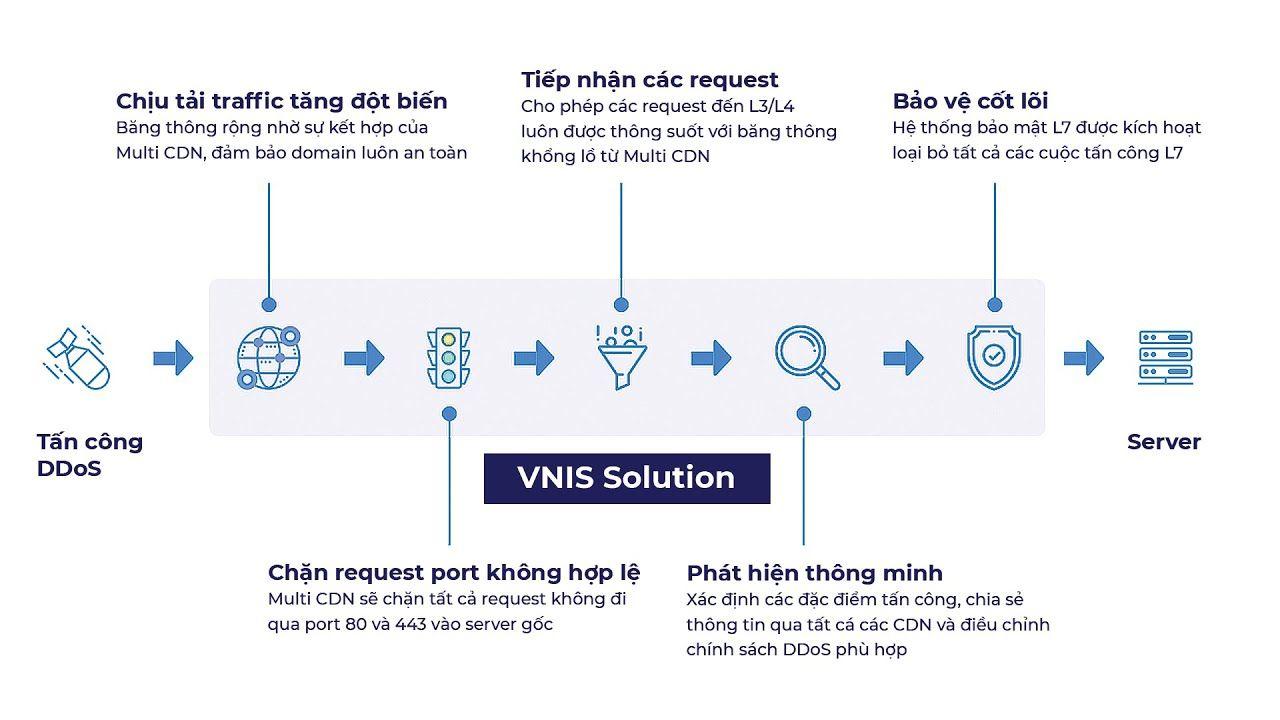 5G technology requires every aspect of an organization's Internet to be secure. Therefore, to effectively apply this technology, organizations need to continuously update to raise awareness about cybersecurity, and at the same time apply security solutions for their organizations to Always ready to respond in any possible attack situation. Understanding the urgency of the above problem, VNETWORK has developed and constantly upgraded VNIS - a comprehensive Web/App security platform, providing organizations with the most optimal security solutions such as:
1. Cloud WAF Firewall (Web Application Firewall): VNIS allows to prevent requests with bad signs based on criteria such as headers, cookies, IP of users to protect Layer 7 (Application Layer) in the most effective way. At the same time, VNIS's WAF also protects the Website from the top 10 security vulnerabilities of OWASP and common attacks such as: XSS, SQL Injection, HTTP Protocol... VNIS's WAF cluster is available in many countries and regions ground, helping to defend against large-scale Layer 7 DDoS attacks. VNIS's Cloud WAF is a comprehensive and multi-purpose solution to that problem with complex CRS (Core Rule Set) management capabilities to keep corporate websites safe from attacks on the application layer.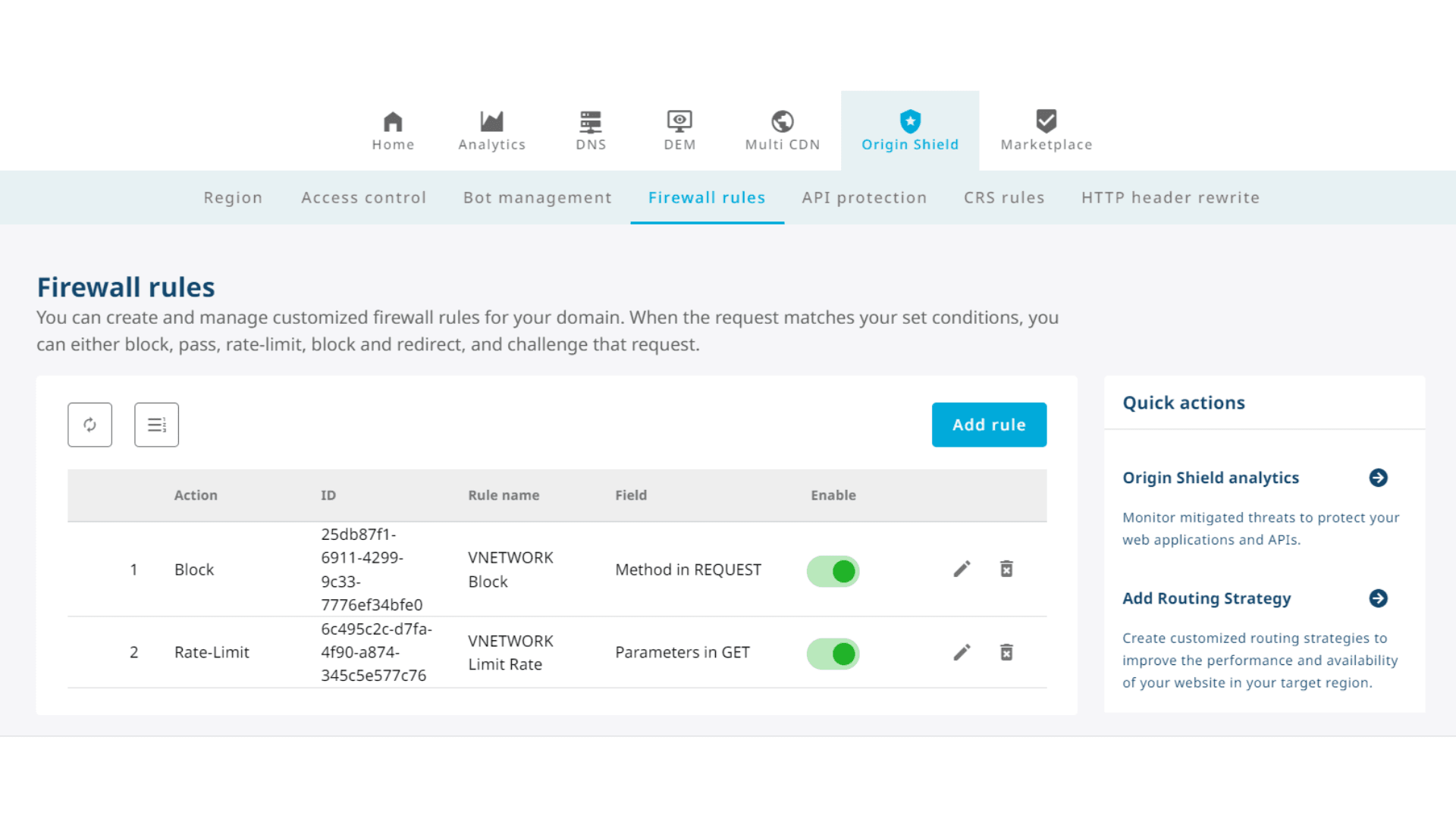 2. Origin Shield - Origin Server DDoS Protection: VNIS's root server anti-DDoS feature works by adding a layer of security on Layer 7, allowing Bots to crawl from reputable search engines to enter, automatically block malicious Bots, check Full control of the origin server security system. Thereby, protecting the maximum safety for business organizations.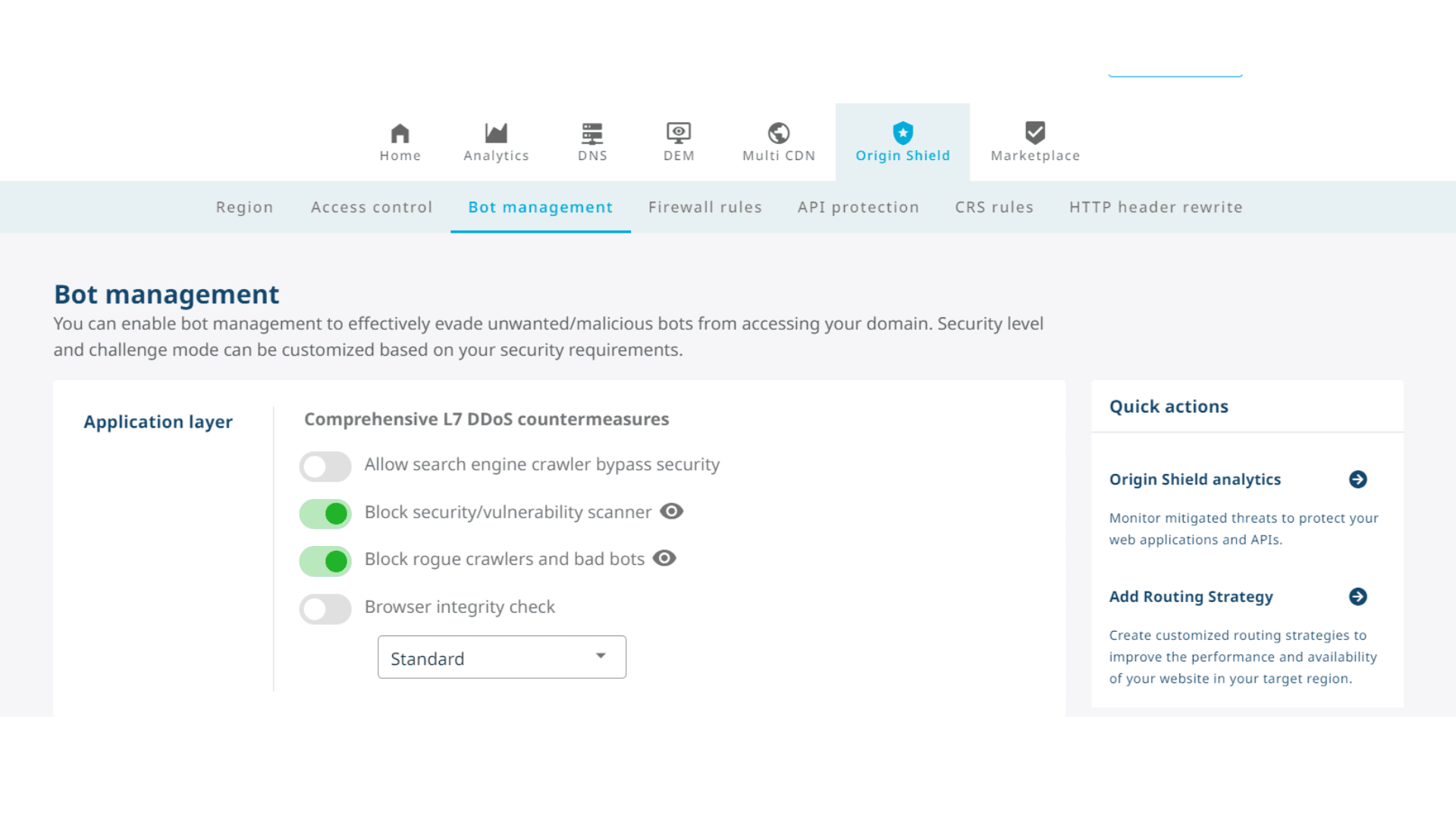 3. Multi CDN (Multiple Content Delivery Network) system: Help mitigate DDoS and speed up Website globally. Strong infrastructure with more than 2,300 PoPs globally, automatically responding to content from the closest PoP to users, total domestic CDN bandwidth uplink 2,600 Tbps, helping to ensure 100% Website uptime.
In addition, with Multi CDN, users are also integrated using AI load balancing feature, automatically putting Website content through many different CDN systems to ensure optimal performance. Thereby, the Multi CDN system helps you manage the world's major CDNs in just one platform, which is convenient and extremely fast.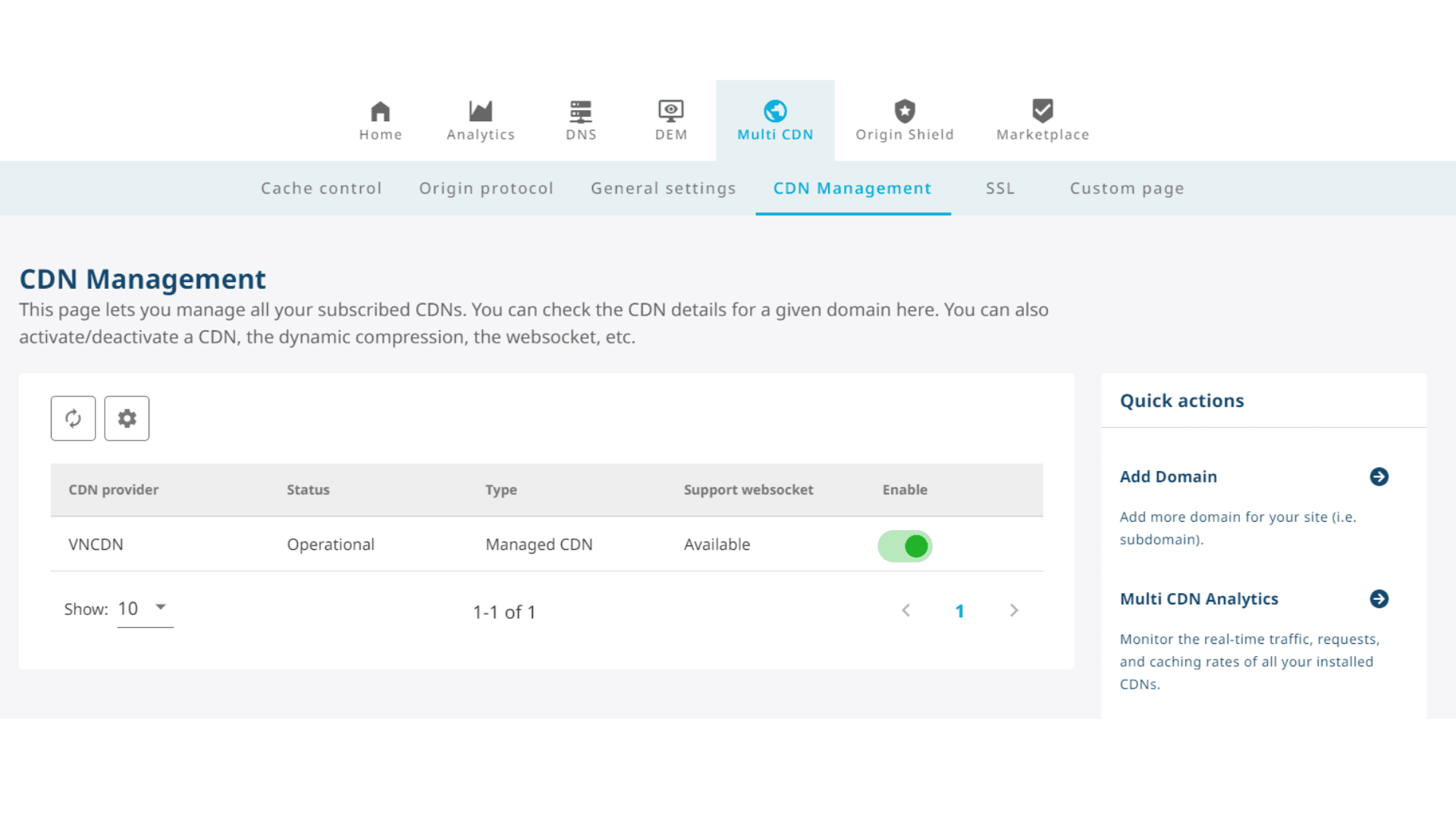 To answer more security-related issues for APIs, as well as experience a variety of other smart security solutions of VNIS, please contact hotline (028) 7306 8789 or fill in registration information below, our experts will advise you immediately.
Please leave your contact information, and our experts will contact you soon.