Anti DDoS: Top Anti Website DDoS Services Now
Wed Oct 12 2022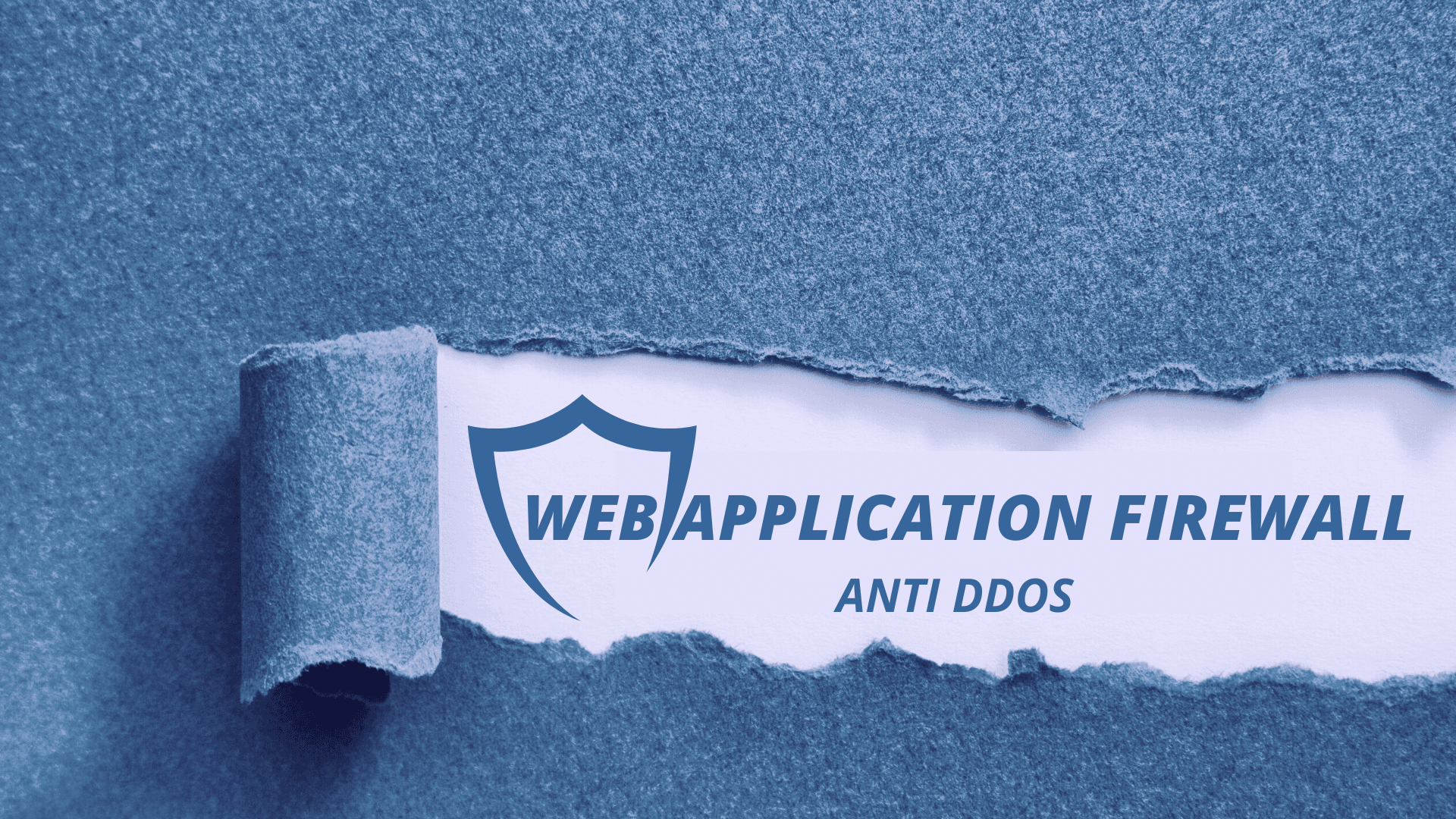 WAF is the best solution to combat today's Website DDoS attacks. So what is the popular WAF service trusted by many businesses?
What is WAF?
WAF (Web Application Firewall) aka Web Application Firewall helps to handle HTTP protocols to protect Web applications. WAF acts as the first line of defense, analyzing all the information data before it reaches the application or the end user.
There are three common types of web application firewalls:
Hardware-based web application firewall
Software-based web application firewall
Cloud-based Web Application Firewall (Cloud WAF)
How WAF helps fight DDoS?
DDoS attacks are of two main types. And the article will learn about the protection methods that should be used in each case:
1. DDoS attack by volume: Massive DDoS attacks are designed to overwhelm internet pipelines and regardless of what defense you have on your Internet Edge (like DDoS Appliance, FW, WAF, IPS...) The only effective solution to prevent bulk DDoS attacks is to use an anti-DDoS service with a Cloud WAF (Web Application Firewall) firewall combined with a Multi CDN (Content Delivery Network).
2. Massive DDoS attack: This second type of DDoS attack doesn't overwhelm a business's internet pipeline, but is just as capable of destroying website or application availability as a volume-based DDoS attack.
Enterprises can equip a secure layer of defense with a smart Cloud WAF firewall that can block spoofed IP addresses, ports other than http, etc. At the same time, WAF also provides multiple levels of protection. Websites and applications are safe from DDoS attacks such as:
PPS detection threshold
Percentage of detection threshold
Full Reverse-Proxy mode
Load Balancing On WAFs
Check out different packages
The most popular anti-DDoS WAF solution providers
Here are some popular Anti DDoS service providers along with actual objective reviews that we have compiled from reputable review sites like Gartner and G2:
3. AWS Shield
AWS Shield is an Anti DDoS service that provides protection for web applications running on AWS. AWS Shield helps reduce application downtime and latency. AWS Shield comes in two main types:
AWS Shield Standard (standard version)
AWS Shield Advanced (advanced version)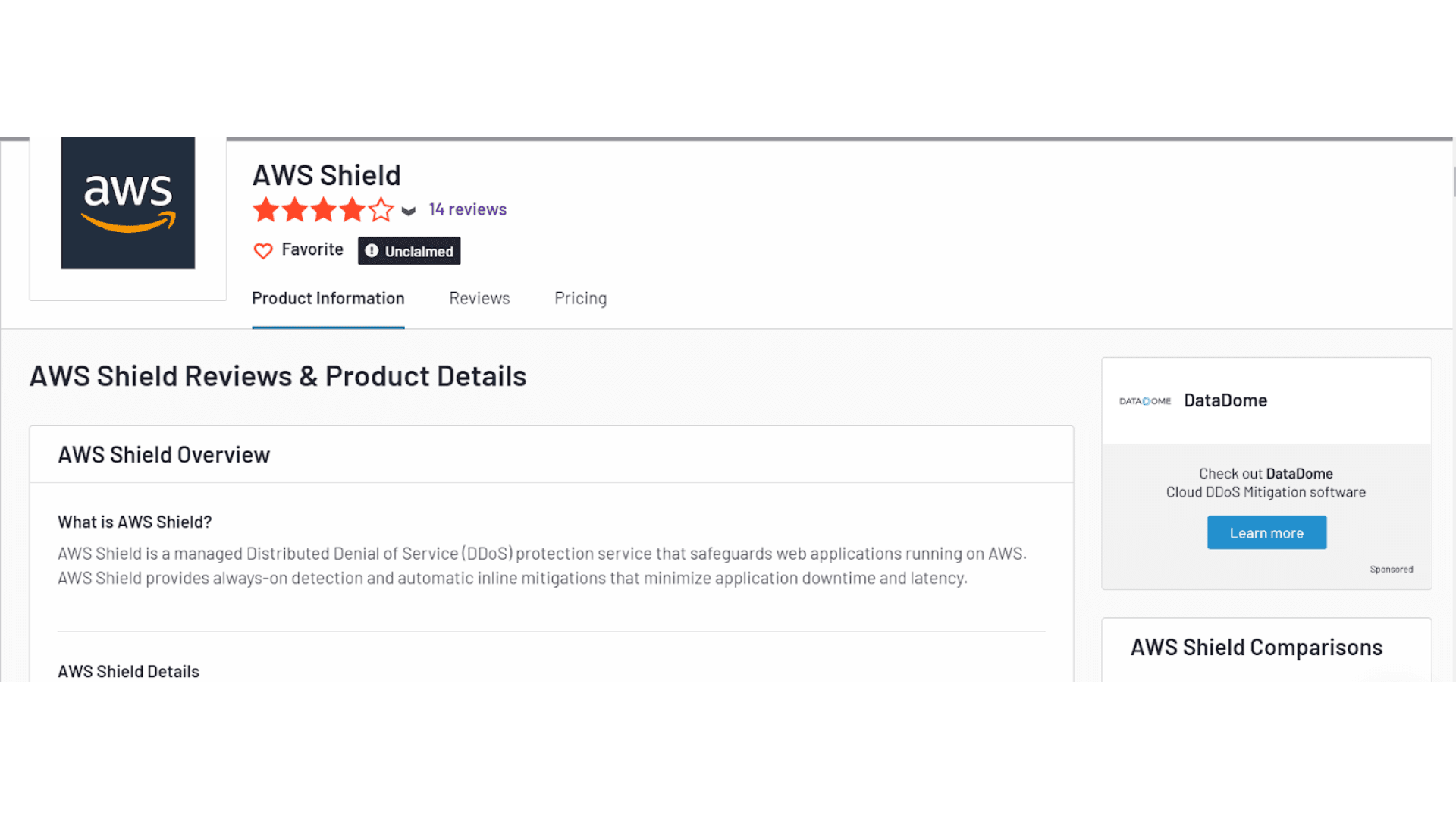 Advantages
Optimizing costs because:
As an integrated security service for all applications hosted on AWS infrastructure
The standard version is the one that provides protection from 96% of common DDoS attacks
Ability to protect website or application from DDoS attacks automatically
User-friendly interface, allowing users to choose operating system, web application platform, database and programming language.
Disadvantages
Restrictions on protection options, custom rules,...
The advanced security features included in the AWS Shield Advanced package are quite expensive compared to the general market
2. Akamai WAF
Akamai provides DDoS mitigation with fast and effective protection. Akamai WAF is designed to combat DDoS attacks on applications deployed in data centers or cloud infrastructures.
Advantages
Friendly management interface for easy installation and administration
Allows customizing or building a variety of rules suitable for many attack situations
Akamai's SOC system operates 24/7.
Disadvantages
Some packages like: Anti DDoS Akamai Prolexic forced to check manually
Unclear explanations of help or integration issues
3. Cloudflare DDoS Protection
Cloudflare is a name that is no longer too strange in the field of information technology security with the provision of advanced security solutions, notably the Cloudflare DDoS Protection service - recognized as a DDoS Mitigation service. well known in the industry.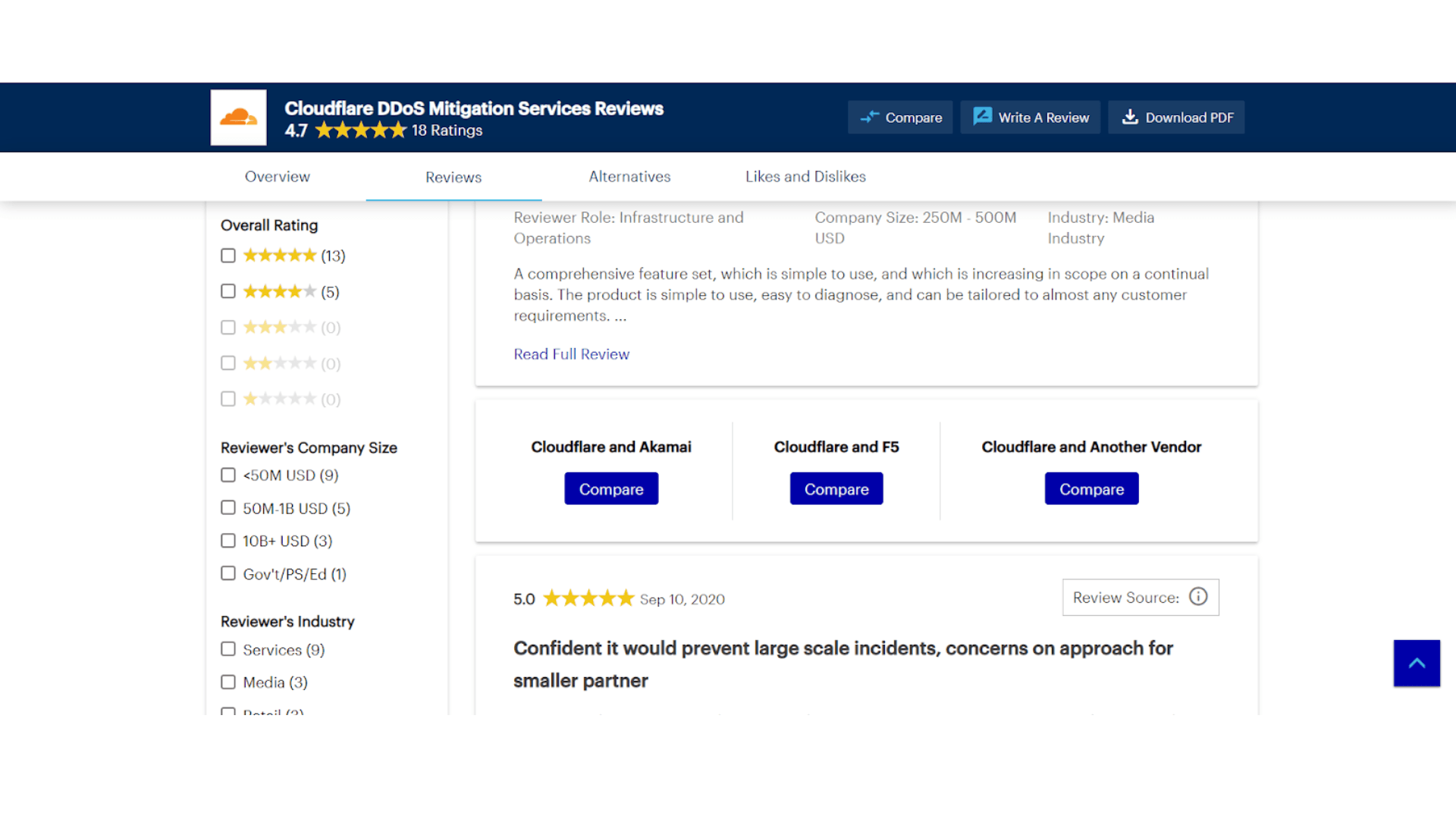 Advantages
Easy to set up and manage with a dedicated admin panel
Timely threat mitigation with database networks in many countries and regions
Good technical support thanks to a highly specialized team
Detailed report on blocked requests, origin, ... to customers.
Diversify costs for many sizes of organizations and businesses
Prevent large-scale DDoS attacks
Eliminate attacks on Layers 3, 4 and 7 with a cloud-based anti-DDoS system
Disadvantages
For large enterprises (Enterprise), the cost is assessed a bit high compared to the general market.
Don't provide a free trial of anti-DDoS service so can't try before you buy
4. WAF Imperva Incapsula
WAF Imperva Incapsula helps protect the Website from the latest threats, intelligent and effective 360-degree DDoS protection immediately on Layers 3, 4 and 7. In addition, Imperva also has a global CDN network that helps increase Website speed effective. At the same time, this CDN system also helps to monitor performance and provides necessary information to detect abnormal Website traffic early.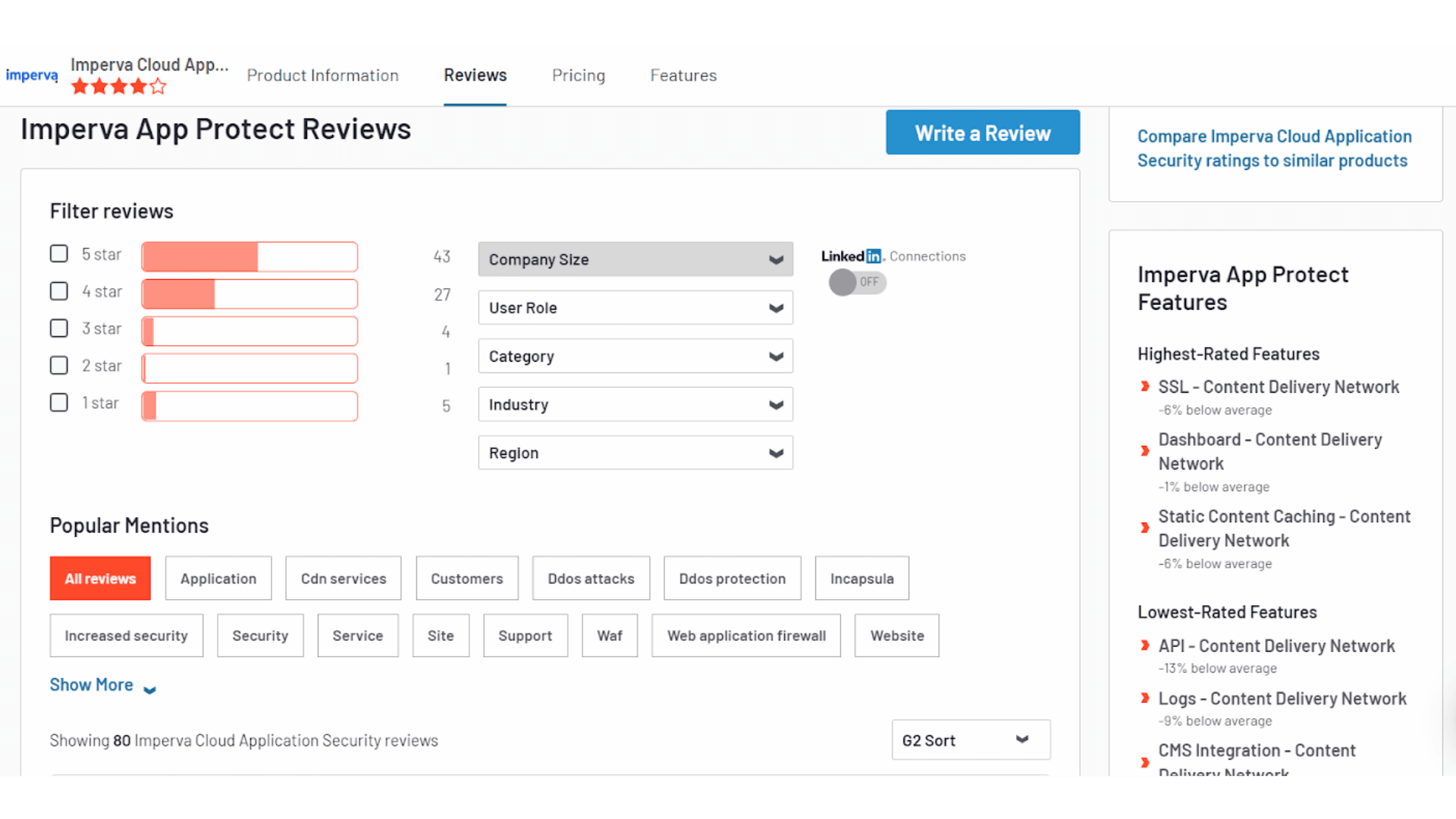 Advantages
The support team is always ready to solve the problem
Monitor PCI standards, analyze attack vectors of all Websites
WAF for powerful DDoS mitigation added CDN with outstanding Website performance optimization
Disadvantages
Incapsula does not support free SSL
Many reviews say that the cost for these services is too expensive compared to the market
Managing wildcard domains through Incapsula is a bit cumbersome during setup
The reports are not really detailed
5. Radware Anti DDoS Service
Radware offers Anti DDoS technology that stands out from the rest of the industry, based on attack detection and mitigation. Radware uses sophisticated behavioral analysis-based algorithms to distinguish between legitimate and malicious request traffic.
Radware Anti DDoS service provides anti-DDoS feature in many forms:
Hardware devices (using DefensePro mitigation devices)
Cloud service (on demand or always on)
Hybrid protection services (combining hardware devices with cloud services)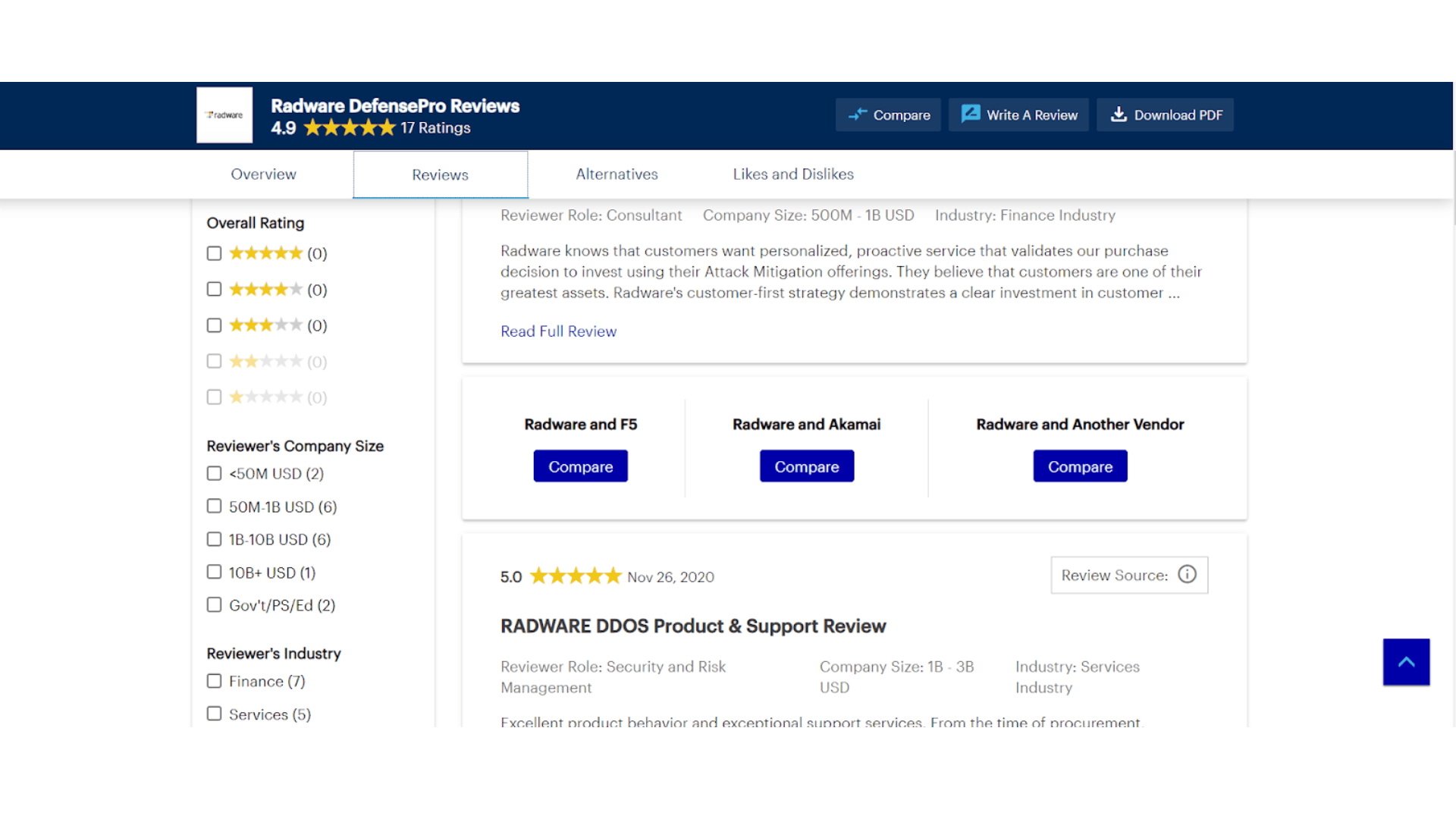 Advantages
Fewer false positive case findings
Allows administrators to identify and monitor attack signs to take timely preventive measures
There is a professional network security monitoring center, helping to quickly prevent any problems
Disadvantages
Complicated in the implementation step, high expertise is required
The report is limited and not appreciated
Radware DefensePro package is anti-DDoS but not guaranteed 24/7 continuity
VNIS overcomes security weaknesses with what features?
VNIS (VNETWORK Internet Security) provides comprehensive protection for organizations' websites and applications. VNIS's solution brings a super-fast and safe Website experience to users. VNIS platform combines many smart security solutions on a single management interface such as:
1. Cloud WAF Solution
Cloud WAF system integrates more than 2,000 sets of security rules combined with complex CRS (Core Rule Set) management capabilities to protect enterprise websites from attacks on application layer (Layer 7) . Cloud WAF on VNIS platform also helps protect Websites and applications from the top 10 security holes of OWASP and common attacks such as XSS, SQL Injection, HTTP Protocol...
2. Multi CDN Management Solution
All CDNs are designed differently so there is no such thing as "one-size-fit-all". This makes it difficult to manage multiple CDNs. VNIS combines the world's leading CDN providers to create a global Multi CDN network, with a total international bandwidth of up to 2,600 Tbps for the highest level of resistance to Layer 3/4 DDoS attacks, ensuring the highest level of security. Website guarantee 100% uptime.
3. Smart load balancing with AI Solution
3.1. RUM (Real User Monitoring) function: Global real user access monitoring Monitor user access to the site (after installing the code)
3.2. Global Server load balancing function: The system uses data from RUM Website traffic is automatically assigned to the best performing CDN, based on the geographic location and state of the local CDN
4. CDN Power-Ups Solution
Sign up for CDNs of the highest standards Enable enhanced anti-DDoS feature (business plan)
Why choose VNIS?
With the above outstanding solutions, VNETWORK's VNIS is a comprehensive security platform, when integrating the advantages and overcoming most of the limitations of today's leading Anti DDoS service providers, specifically such as: after:
1. Cost: With the limitation of high cost, especially for the Enterprise model, each market must use a different CDN and must have a highly specialized technical team to administer, which consumes resources. financial and human resources. Therefore, with Multi CDN of VNIS - integrating and managing many of the world's leading CDNs to help businesses automatically deploy, manage and monitor on a single platform, is the first choice to optimize costs. fees for businesses.
2. Trial policy: Some providers do not have a trial policy, but with VNIS, they will support customers with a "7-day trial" service package, providing full features for customers to experience with the best service. Professional support comes from VNETWORK's technical team, helping to prevent and prevent DDoS attacks effectively.
3. Report: In addition, when using the service at VNIS, customers will be provided with detailed reports according to their needs with just a few mouse clicks, completely overcoming the limitation of having to manually check for businesses. Karma.
4. Support: With issues of help and implementation, VNETWORK stands out with its 24/7 support policy at home and abroad, customers will be enthusiastically supported by VNETWORK's highly specialized technical team and quickly if you encounter any problems while using the WAF Anti DDoS service on VNIS.
**5. Rule options: ** Some WAF service providers have limited rules options and few built-in security services. However, with VNIS, customers will be able to customize rules according to their own level and requirements. VNIS also integrates a variety of other Cloud-based security solutions such as: SECU E Cloud (Security of Email), Cloud Storage (Security of Digital Content Storage), DRM (Digital Content Copyright Protection), ...
6. SSL: Besides, when using VNIS, customers will automatically be granted Free SSL for the Website. Especially in case customers already have their own SSL, VNIS also allows to integrate their own SSL into the system, making it easy for customers to manage on the same platform.
7. Payment: To overcome limitations on difficulty payment, VNIS supports customers to make flexible payments in many forms, regardless of region or country, ensuring compliance with financial policies. of each enterprise.
8. SOC System: VNIS also combines with VNETWORK's SOC system in many countries and territories, helping to proactively monitor and detect early signs of attack quickly and promptly, ensuring system security. your business's network security secure 24/7.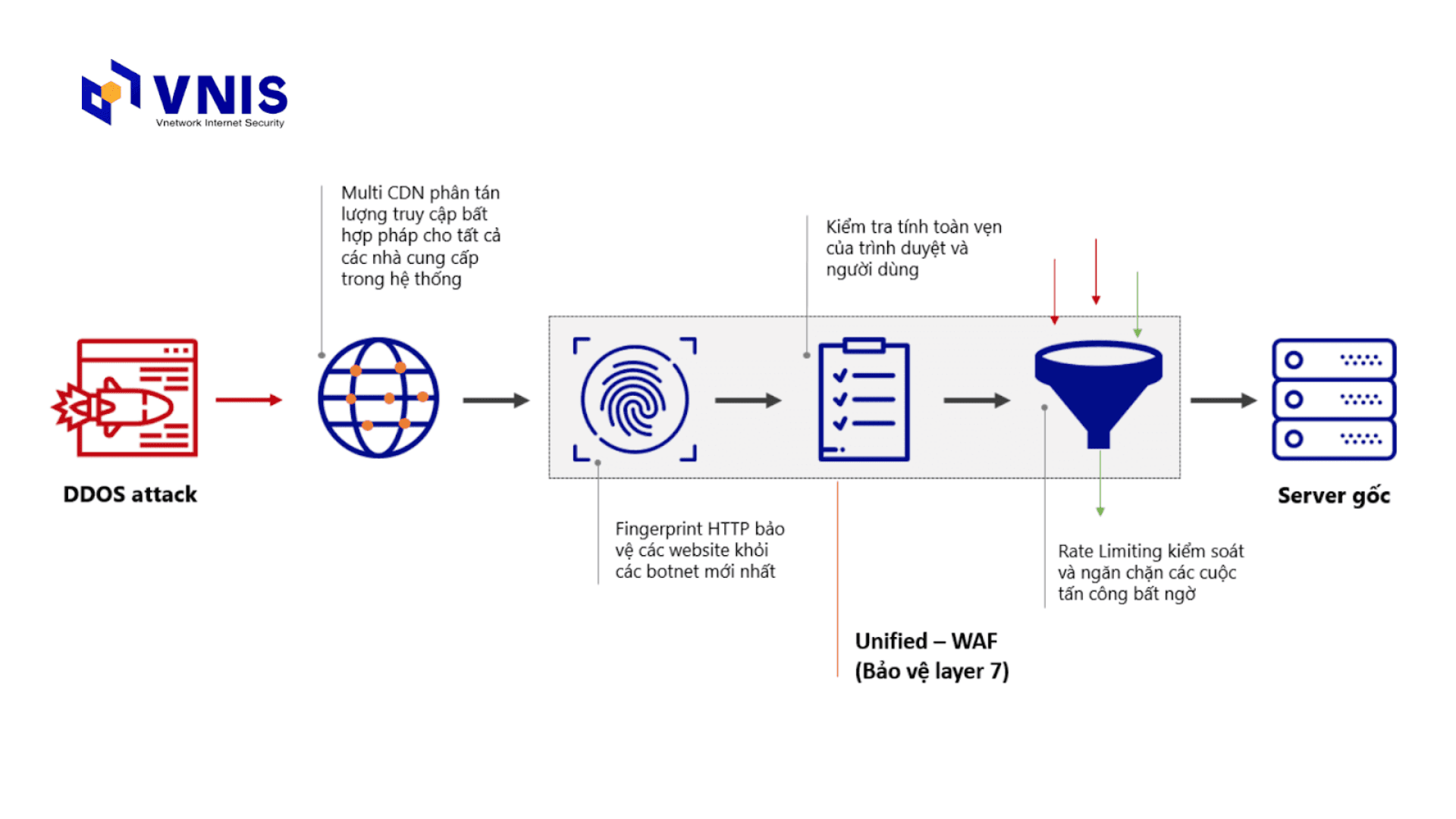 Register for a trial of VNIS today via hotline (028) 7306 8789 or fill in the registration information below, our experts will assist you immediately.
Please leave your contact information, and our experts will contact you soon.